Conference poster:
here
University map:
A frequent shuttle travels along the perimeter

Program:
Invited speakers:
Eli Aljadeff (Technion)
Eva Bayer (Lausanne)
Jason Bell (Waterloo)
Alexei Belov (Bar Ilan)
Allan Berele (DePaul)
Amiram Braun (Haifa)
Eric Brussel (Cal Poly)
Miriam Cohen (Ben Gurion)
Ed Formanek (Penn State U)
Be'eri Greenfeld (Bar Ilan)
Colin Ingalls (New Brunswick)
Danny Krashen (U Georgia)
Max Lieblich (U Washington)
Lenny Makar-Limanov (Wayne State U)
Eliyahu Matzri (Bar Ilan)
Kelly McKinnie (Montana)
Alexander Merkurjev (UCLA)
Susan Montgomery (USC)
Donald Passman (U Wisconsin-Madison)
Claudio Procesi (Universita Di Roma)
Andrei Rapinchuk (Virginia)
Amitai Regev (Weizmann)
Zinovy Reichstein (Vancouver)
Murray Schacher (UCLA)
Yoav Segev (BGU)
Evgeny Shustin (Tel Aviv)
Jack Sonn (Technion)
Jean-Pierre Tignol (UC de Louvain)
Research workshop of the Israel Science Foundation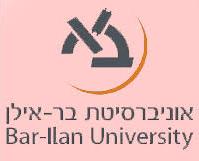 Advances in Noncommutative Algebra and Representation Theory

On the occasion of Louis Rowen's retirement
June 25-30, 2017

Planning to attend? please register (see excursion details below).

Venue: Bar-Ilan University (Google Maps).
See map for the location of lecture halls and meals
Lectures on Monday, Tuesday, Thursday: Beck Auditorium, underway passage between buildings 405 and 410
Lectures on Wednesday: Feldmann Auditorium, building 300
Local information:
The exchange rate fluctuates around 1 USD = 3.55 Shekel (ILS).
Taxis depart from the Ben Gurion airport at ground level, next to Gates 01-03, operating 24 hours. Taxi to any place in the Tel-Aviv area should cost around 130-160 ILS.
Participants will stay at the Maxim Hotel (location on Google Maps). (Parking is scarce in the area, and the hotel has no parking lots.)
We thank Shira Gilat (shira.gilat@live.biu.ac.il) for helping out with the reservations.

Transportation to and from the university:

Monday: hotel to university (9:00am), university to hotel (6:30pm)
Tuesday: hotel to university (9:00am), university to hotel (8:00pm after excursion)
Wednesday: hotel to university (9:00am), university to hotel (9:00pm after dinner)
Thursday: hotel to university (9:00am), university to hotel (6:30pm)
Program:
Lectures to begin on Monday, June 26th. See program in the link.
The 24th Amitsur Symposium, including the festive dinner, will take place on Wednesday, June 28th.

The excursion:
On Tuesday you are invited for a half-day sight seeing tour in Jerusalem: the new music museum, and guided tour of streed of the Prophets and the historic neighborhood of Yemin Moshe.
We expect to return to Bar Ilan around 8pm.

Car permit:
If you wish to enter the university by car, please inform Tamar Barzilay. Guests entrance is from gates 5 or 20.

Scientific Committee:
Joseph Bernstein (Tel Aviv), Darrell Haile (Indiana), David Saltman (USA), Lance Small (San Diego), Efim Zelmanov (San Diego).
Organizers:
Eliyahu Matzri (Ramat Gan), Andre Reznikov (Ramat Gan), Uzi Vishne (Ramat Gan).



Sponsors:
Israel Science Foundation
and
Department of Mathematics (Bar Ilan University)
Office of the Vice President for Research (Bar Ilan University)
Gelbart Research Institute (Bar Ilan University)
The Israel Mathematical Union

---